This morning I got up early....it was only 9....to go to the 25 cent kid's show, Elf, at the State Theater with Sam.... we skipped the Black Friday shopping craze. I hadn't seen Elf in a while and had fun laughing at Will Farrell eat cotton balls, cover everything in syrup, and help people believe in Santa again.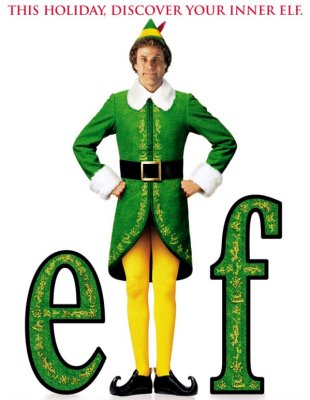 It was nice to be downtown Traverse City and see all the lights on the trees...it was even snowing today. It was also much, much colder than yesterday.....a chilly 27 degrees (which felt like 16 with the wind). The wind was strong and not much fun to be outside in. After the movie was over, Sam and I headed to the coffee shop, Crema, for breakfast and coffee. We had gotten coupons in our race packets for 20 % off any purchase there, and I love their menu. I ordered a Chai Tea with a shot of Espresso (one of my faves) and an Egghead (egg and melted cheese on an english muffin)...yum. Crema was busy and I happened to see a few people I knew, which was fun.
Later in the day my dad wanted to get out running to loosen up our muscles. I agreed, but like I said before today was windy and cold and the run wasn't as successful as either of us hoped. We drove over to my dad's shop, which is near the last mile of the race route from yesterday. We started out strong and quickly hit some blocks. Both of were wearing multiple layers of clothes to stay warm, but it was hard to breathe. I got a side cramp that just wouldn't go away, so we decided to cut down a different road and not do the whole course.....I don't know how long it ended up being. It was dark by the time we got back to the truck and I was ready to get back and get warm.
Both of us were happy to be back inside and warm again!
(
Wearing our Turkey Trot shirts even)