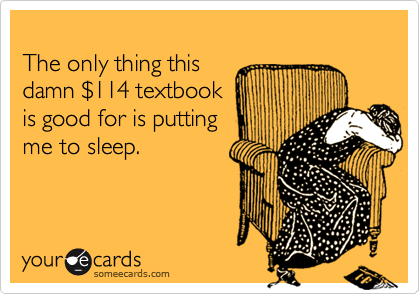 I've been reading textbooks, writing discussion responses, and studying all day long.
I had to watch Don Juan Demarco (twice) today for one of my assignments. I'm sorry but no amount of Johnny Depp can save how dumb that movie was. He thinks he's Don Juan, a sword fighting sex god from the 1800.....about as crazy and unrealistic as the sword fighting scene itself.
This is partly my own fault for putting Army Wives ahead of my home work all weekend, but the majority of it is due sometime this week, so hopefully I'll still have time :)
Guess I'm digging for change in my purse cause I have about 2 pairs of clean underwear and 1 pair of clean socks left in my drawer. Laundry must be done tomorrow!
Hopefully I don't fall asleep too many times tonight, so I can be well prepared for my exam tomorrow. Wish me luck!