It's probably a good thing I don't have a source of income at the moment or else I'd be spending all my money on clothes. For as long as I can remember I've dreamt of being a fashionista, telling people what to wear, putting together cute outfits, designing my own clothes, shopping at cute boutiques filled with racks that held a mix between vintage and new designer duds (if only). When I was in elementary school I'd get in trouble for doodling clothing designs for my future personal line I'd be coming out with once I made it into the fashion industry. I had special notebooks that contained pages of designs that I was convinced everyone would be wearing someday. Since then I've slowly given up on that dream and moved on to something a little more practical, but I still dream of being the fashion guru I once was. People who see me on the streets, or in class, may not think I care about fashion because the majority of the time I'm in yoga pants or sweats with my hair up and no make up on, but the truth is I've just gotten lazy. I choose to be comfortable instead of taking the time to dress up, or wearing Uggs with my dress because I don't feel like walking across campus in the heals. Granted the other reason I wear what I do is that half my wardrobe no longer fits me.
So anyway, what this post is really about is my online window shopping problem. Although I'm pretty good at holding back from buying anything and saving my money, it's still really hard for me to stay completely away from my favorite stores and designer brands. I visit the websites of Marc Jacobs, Urban Outfitters, Etsy, Gap, Forever 21, Mod Cloth, Victoria's Secret, Betsey Johnson, and Free People weekly, checking the sites for what item I want to add to my virtual closet next. Fashion inspires me, it's like music, putting together certain outfits or seeing something I absolutely love (even if I can't have it) excites me. One minute I'm really into 50's style clothes and the next I'm in the 70's with hippie chic. Although Marc Jacobs and Betsey Johnson probably tie as my all time favorite designers, my favorite brand that I'm constantly obsessing over and inspired by is
Free People
. If I could own a whole wardrobe filled with Free People clothing I would in a heartbeat. I was on their website today making a wish list of pieces I loved and I thought I'd take the time to share.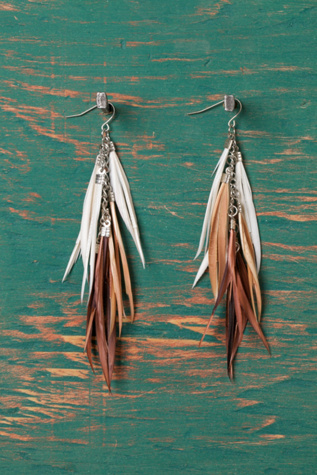 I don't wear jewelry a whole lot, but I sure do love these earrings.
Kenya Feather Earrings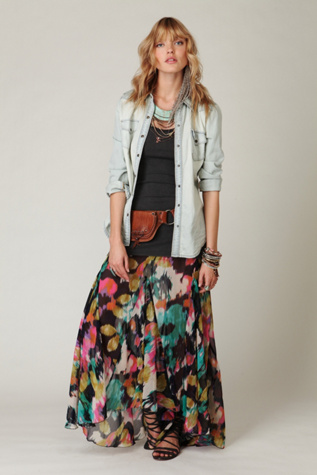 I love this outfit and I can only imagine how much fun I'd have in that skirt!
FP-1 Desert Florals Maxi Skirt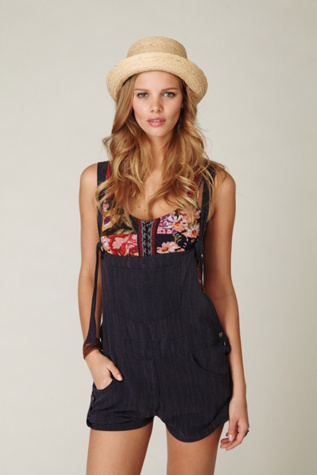 Overalls never looked so stylish.
Kettle Black Overall Short
Looks like the perfect outfit for a relaxing day outdoors or in.
Tie Dye to the Max Dress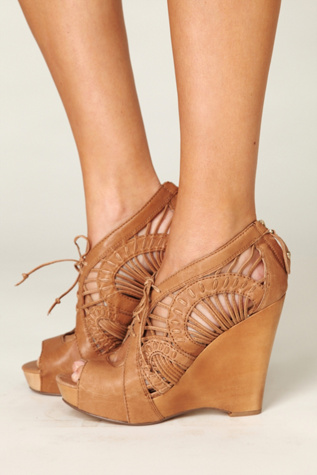 I can't even express how much I want these wedges (and wish they had them in my sizes).
Kellan Wedge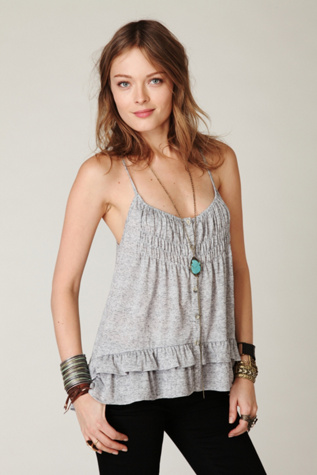 Ruffle Hem Cami
I love their line because it's the fabrics are always so light and flowy. As a girly girl myself, I greatly appreciate all the ruffles, long skirts, layers of jewelry, and floral prints that characterize the Free People designs. Plus when I started making my wish list and had to make an account on the site, they sent me an email for free shipping on my next purchase.....they're playing with fire here (or maybe I am) because it's so so so hard for me not to buy a simple (less expensive) item to treat myself with.
Do you like to window shop? What are your favorite stores/brands/designers?