Congratulations go out to the newly wedded Duke and Duchess of Cambridge!
Source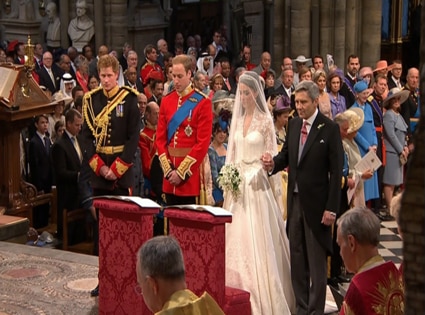 Source
I just couldn't resist getting up this morning to watch all the fun...I'm a girl, what can I say. I was drawn in by all the talks of jewels, dresses, hats and attractive royals. The coverage started at 4 am, but looking at the schedule last night I decided to sent my alarm for 5:15. I woke up just in time to see Wills and Harry get out of the car in front of the Westminster Abbey....they were looking quite dapper ;)
Source
And of course Kate....looking GORGEOUS! That dress was perfect.
Source
Source
E! had great coverage this morning. It was all quite romantic to watch, and I definitely shed a few tears here and there throughout the whole ceremony.
I think this was my favorite part though.
Source
Source
AWWWWW...so sweet. I seriously waited to have breakfast because I didn't want to miss anything. I couldn't wait to make myself some eggs and toast after. YUM...being able to cook, another plus to being home. I'm thinking a run outside is in store for later as the sun is shining and beautiful.
Did anyone else wake up early to watch the wedding? What did you think of Kate's dress?